Building Automation System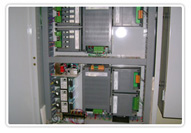 A Building Automation System (BAS/BMS) is an example of a distributed control system. The control system is a computerized, intelligent network of electronic devices, designed to monitor and control the mechanical and lighting systems in a building.
Modern building automation systems do not just control the basics, they regulate airflow, monitor energy use and are being called upon to integrate with security, lighting, and other systems throughout buildings to deliver comfort, safety and energy efficiency. Choosing the best system can help you get the most out of your building, today and tomorrow. We at Airef help you do that with absolute ease.

We deliver unparalleled customer service, training and technical support for all your automation needs.

At Airef our clients get the confidence of being backed by our resources known throughout the country for top-quality engineered products and services.