Water Supply & Plumbing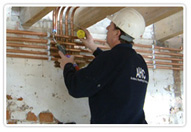 As water is vital for our existence, anything associated with its proper supply becomes extremely important for us. Hence, plumbing constitutes an integral part of a construction process and building contractors in India give special emphasis on the proper installation of plumbing fixtures and fittings.

Airef engineers provide plumbing services supervised by a strong team of expert plumbers. These people are qualified engineers who study the construction site and building project before preparing an effective plan for the efficient water supply management and drainage.
All the services are planned, blueprinted and executed with utmost perfection to avoid any kind of water supply or blockage problem in future. Customized as per the requirements of our clients, our services ensure efficiency and effectiveness.